Cloud Infrastructure and Implementation Services
Our Managed Cloud Services offer a wide array of IT and allied services necessary for day-to-day operations of every enterprise. We help perform all tasks from critical to core operations in an efficient and cost effective manner so that you can focus on business growth.
Comprehensive cloud management is vital to protect cloud assets against vulnerabilities, data loss and downtimes. Cloud's true potential cannot be harnessed by managing it like a data center. End-to-end visibility of infrastructure and applications helps remediate performance and utilization issues and increases productivity, security and compliance.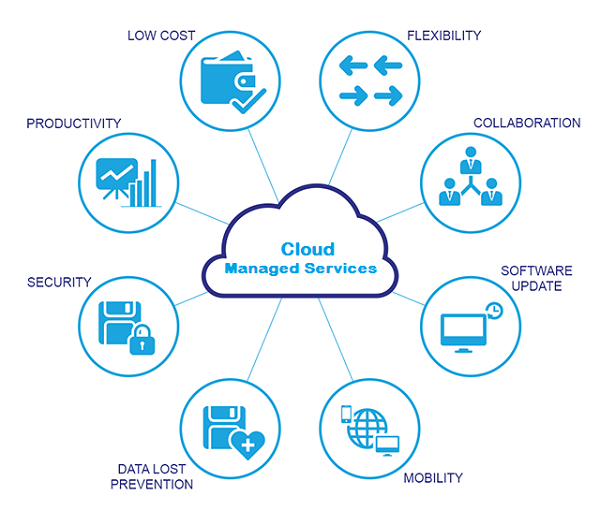 Building an agile, cloud-first environment that aligns with an organization's business objectives requires experience that spans industries and multiple use cases. Expert Solution assures scalable cloud adoption by putting together foundational elements including system and network design, security, resiliency, availability, scalability, SSO, and migrate applications with minimum interruption to business. We have established partnerships with major cloud providers including Microsoft Azure, AWS and Salesforce which helps us design tailor-made cloud solutions suited to cater to your every need. We create data centers that minimize IT footprint, and build cloud environments optimized for single-view management and effective governance.

Enhance innovation, accelerate time to market
Going cloud native helps companies stay ahead of competition as it provides agility, continuous delivery and rapid time to market. But implementing a cloud native solution can be a complicated and time-consuming exercise without an experienced partner. It calls for a partner who can deliver insights from data at speed, build fault-tolerant systems and create architectures to drive innovation. Expert Solution's resilient, scalable cloud native services enhance productivity, inclusivity and innovation for workforce and partners while improving business processes with minimal overhead costs and manual efforts. Our services also support continuous and complex business needs at scale, while reducing management costs with self-service and on-demand provisioning.
Managing Your Data Environment
In today's fast-paced world, some of your most critical operations revolve around technology. And for those systems to work, you need an infrastructure that's ready to support your changing workloads and organizational needs.
We bring you the solutions and the support you need to further your goals. We can assess your environment, design the best approach, deploy your solution and manage it throughout its life-cycle. Because with a flexible, resilient and efficient data center, you can support flexibility, resiliency and efficiency throughout your organization.
We have come with a vision to be the best IT solutions and facilities provider and for the time being we kept our motivation strong with blend of hard work and providing best solutions to the organizations or individuals.We make complex hurdles, easy to overcome.